Björn Christian Ulvaeus was born on April 25, 1945 in Gothenburg, Sweden's second city, on the country's west coast. In 1951, the family moved to the small town of Vasternik, on the east coast. His mother, Aina, and father, Gunnar, both loved music and they gave Björn his first guitar on his eleventh birthday. He quickly got used to the instrument, learning some chords with his cousin, Jon Ulfsater, who was soon beginning to start his hand at jazz and folk. Even though Björn was showing a great talent for music, the teenager continued his studies in law, following the advice of his parents. Björn studied business and law at at Lund University, after his military service.
Prior to gaining international recognition with ABBA, Björn was a member of the Swedish folk-schlager band Hootenanny Singers, who had an enormous following in Scandinavia. While on the road in southern Sweden in 1966, they encountered the Hep Stars, and Björn Ulvaeus quickly became friends with the group's keyboard player, Benny Andersson. The two musicians shared a passion for songwriting, and each found a composing partner in the other. On meeting again that summer, they composed their first song together "Isn't It Easy to Say." The first Ulvaeus/Andersson song had been written, and a new songwriting team was born. The song was recorded during the autumn of 1966 by the Hep Stars (with Bjorn on guitar), and included on the album "Hep Stars." The two continued teaming up for music, helping out each other's bands in the recording studio, adding guitar or keyboards respectively to the recordings.
In the spring of 1969, Björn and and Benny met the two women who were to become not only their fiancées, but also the other half of ABBA. While filming a nostalgic schlager special for television in March 1969, Björn met eighteen-year-old singer-songwriter Agnetha Fältskog. Benny had himself met his future spouse, 23-year-old jazz schlager vocalist Anni-Frid Lyngstad, only weeks before.
Björn Ulvaeus continued recording and touring with Hootenanny Singers to great acclaim while working as in-house producer at Polar Record Company (headed by future ABBA manager Stig Anderson), with Benny as his new partner. The twosome produced records by other artists and continued writing songs together. The year 1969 was a crucial turning-point in the ABBA story.
That was the year when Benny Andersson's group, The Hep Stars, split up and it was the year when the Hootenanny Singers, Björn's band, decided to quit touring for the foreseeable future, confining their infrequent group activities to the recording studio.
At the start of the 1970s, Benny and Björn began to work as a duo more seriously. They had left the groups with which they had fame and together they wrote and recorded "She's My Kind Of Girl", which was a huge hit in Japan, where it sold half a million copies. They also recorded an album together (in Swedish), entitled
Lycka
. By the time the album was released in 1970, Benny and Frida had become engaged, and their example was quickly followed by Björn and Agnetha.
On July 6th, 1971, Agnetha Fältskog and Björn Ulvaeus were married in the village of Verum in southern Sweden. Benny played the organ at their wedding. He played the
Wedding March
as well as a song he had co-written called
Wedding
with Svenne Hedlund of the Hep Stars. The wedding drew large crowds and the couple enjoyed a short honeymoon.
At first, the four members collaborated musically mainly by contributing songs, instrumental backing, production work or backing vocals to the recordings they each made as solo or duo acts. The attractive sound of their four voices combined gave them the idea to put together the cabaret act Festfolk (which had the double meaning "engaged couples" and "party people"). This first attempt failed, but in the spring of 1972, they recorded a song called "People Need Love", garnering a medium-sized hit in Sweden. At this time, they called themselves Björn & Benny, Agnetha & Anni-Frid. Encouraged by this success, they entered the 1973 Swedish selections for the Eurovision Song Contest with the song "Ring Ring". They finished third, but the single and the album of the same name competed for the top positions on the Swedish chart. "Ring Ring" also became a hit in several other European countries. The group entered the selections again in 1974, this time with "Waterloo", which took them all the way to the finals in Brighton, England. By this time, they had changed their name to ABBA (the name suggested by Stig Anderson), which was an acronym for their first names.
The Eurovision Song Contest on April 6, 1974 turned out to be the most famous moment in ABBA history, when the group won the international juries over with "Waterloo". Soon after this triumph, "Waterloo" was Number One on the charts all over Europe, and even reached the US Top Ten. The album of the same name was also a huge hit in Sweden. However, the "stigma" of being winners of the Eurovision Song Contest made it difficult for ABBA to be taken seriously when they tried to follow this first success. It was not until some 18 months later that they got a major worldwide hit again with "SOS", taken off their third album simply entitled
ABBA
. "Mamma Mia", also taken from
ABBA
, returned the group to the UK Number One spot, which they occupied a total of nine times between 1974 and 1980.
"Mamma Mia" was also a Number One hit in Australia, which was the first territory to release it as a single in August 1975. Over the next few years, Australia would be caught up in a virtual ABBA fever, giving the group a total of six Number One hits. The year 1976 was when ABBA finally and firmly established themselves as one of the most popular groups in the world. Classic single releases such as "Fernando" and "Dancing Queen" topped the charts all over the world. In late 1976, ABBA's fourth album,
Arrival
, was released. The album stormed up the charts and spawned hits such as "Money, Money, Money" and "Knowing Me, Knowing You". This was followed by a concert tour of Europe and Australia between January and March 1977. The tour was a complete success with capacity houses everywhere. When the tour reached Australia, work was also begun on the feature film
ABBA - The Movie
.
On October 6, 1978, Benny and Frida were married in Lidingö, Stockholm. The celebration was kept secret much to the consternation of the press.
Totally unexpected news began the year of 1979, as Agnetha and Björn were seeking a divorce after eight years of marriage. Their relationship had been on rocky ground for quite some time, although both partners were able to keep it secret. Their marriage resulted in two children, Linda Elin Ulvaeus (Born February 23, 1973) and Peter Christian Ulvaeus (Born December 4, 1977). By mutual agreement, Agnetha and Björn agreed to stay with ABBA. It actually was a relief for both of them and ABBA became stronger than ever. They both knew that the reports of their divorce would certainly spark rumors and speculation by the press. Agnetha and Björn set out to prove that ABBA were very much still a group. On January 9th, 1979, they were in New York for the televised show for UNICEF.
The Gift of Song Concert
was held in the General Assembly Hall of The United Nations. Estimated television viewers were around 300 million worldwide. ABBA's gift of song was "Chiquitita". They donated the copyright and the proceeds of this song to UNICEF.
On September 13th, 1979, started the first leg of ABBA's tour in America. They opened in Edmonton, Canada followed by 13 other venues covering the United States and Canada. Even though not every single performance was sold out, ABBA had sold out most performances and they were met with so much enthusiasm at each performance that often an encore was necessary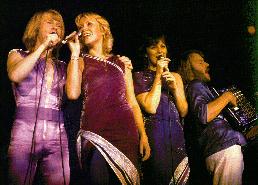 . The show totaled 24 songs. One of the most notable songs for Agnetha fans was
I'm Still Alive
. She not only wrote the lyrics but also played piano for this part of the concert. On October 18th, 1979, ABBA returned to Stockholm to rest before continuing on in Europe with the final leg of the tour through Sweden, Denmark, France, Holland, Germany, Switzerland, Belgium, England, Scotland and finally Ireland. On October 26th, 1979, ABBA released
ABBA Greatest Hits Vol.2
. After more than 40 concerts in ten countries, ABBA were finally able to rest. Agnetha in particular was pleased to be back at home with Linda and Christian. Speculation had Agnetha leaving ABBA, but this was not what she wished, she only wanted to be near her children and not tour anymore. She still wanted to do studio albums and remain in ABBA. She did request some time away from the group in the latter part of 1980 because this was when Linda would be starting school.

Björn and Agnetha officially divorced on June 9, 1980. On January 6, 1981, Björn married Lena Källersjö in the strictest privacy, with only twelve people present. The ceremony took place in the little church Grythyttan, in the Swedish province of Västmanland. Nobody knew about the wedding except for the couple's two families. On January 25th, 1981, Stig Anderson (ABBA's Manager) celebrated his fiftieth birthday. A party was planned with over 300 guests and ABBA performed a special song written for the occasion, Hovas Vittne.
On February 10th, 1981, Benny and Frida announced to the press that they were seeking a divorce. They also announced that this would in no way interfere with their part in ABBA. ABBA would remain a group once again, trying to avoid any negative publicity about ABBA breaking up. Surely, if ABBA survived one divorce it could survive two. Frida made a very similar statement to the press as Agnetha had back in 1979. Another interview revealed that as long as everything was fun for all of ABBA, they would continue to stay together and record music. At the end of 1982, ABBA decided to take a break. If they wanted to, they could always get back together after a few years, they reasoned. As it turned out, the legendary quartet would never perform together again.
"We will never appear on stage again", Mr. Ulvaeus told the Sunday Telegraph in a 1983 interview, six months after their last performance in December 1982. "There is simply no motivation to regroup. Money is not a factor and we would like people to remember us as we were: young, exuberant, full of energy and ambition."
Benny and Björn were interested in doing a musical with Tim Rice titled Chess. Agnetha and Frida were both pursuing solo careers. In the year 1996, all were back on the charts, Agnetha with her compilation of favorites, My Love My Life, Frida with Djupa Andetag, and Benny and Björn with the highly successful musical, Kristina från Duvemåla.

A few years later, Björn became co-composer of the hit musical Mamma-Mia! The phenomenal musical Mamma Mia! became an international success based on the songs of ABBA. Following the premiere of the musical in London in 1999, ABBA Gold topped the charts in the United Kingdom again. This musical was the brainchild of producer Judy Craymer. She met songwriters Björn Ulvaeus and Benny Andersson in 1983 when they were working with Tim Rice on Chess. It was the song "The Winner Takes It All" that suggested to her the theatrical potential of their pop songs.

In January of 2000, ABBA turned down a billion-dollar offer to get back together. "It was a hell of a lot of money to say no to, but we decided it wasn't for us," former ABBA vocalist-keyboardist Benny Andersson told the Swedish newspaper "Aftonbladet" about the reunion offer.

A film version of Mamma Mia! premiered on 18 July 2008. In April/May 2007, Benny Andersson worked on the film soundtrack, re-recording the old ABBA songs with musicians from the old ABBA recording sessions. Mamma Mia! The Movie has now become the most successful movie musical of all time and has been named the number one box office smash of 2008, and the biggest-selling DVD ever in the UK.

In 2008, the four ABBA members attended the Swedish film premiere of Mamma Mia!, making it the first time that ABBA reunited in public since their split.

In the past few years, Björn Ulvaeus shared with Benny Andersson "The Special International Ivor Novello Award" from 'The British Academy of Composers and Songwriters', "The Music Export Prize" from the Swedish Ministry of Industry and Trade (2008), and "Lifetime Achievement Award" from the Swedish Music Publishers Association (SMFF).

On March 15, 2010, ABBA was inducted into the Rock and Roll Hall of Fame. In all, ABBA produced eight studio albums during their existence from 1972 to 1982, and have sold over 370 million records worldwide.

Björn spent part of the 1980s in Henley, England, with his wife Lena and their daughters, Emma and Anna. They have now returned to live in Sweden and currently live in Danderyd, north of Stockholm. Björn spends a great deal of time writing and being with his family.

To this day, Björn Ulvaeus continues to collaborate on musical projects with his close friend Benny Andersson. From left to right below: Stig Anderson (ABBA Manager), Agnetha, Benny, Frida and Björn.